Recent Features
The Ark on Lake Lanier was recently featured as the as the front page cover story on the North Fulton Magazine. Read the article here: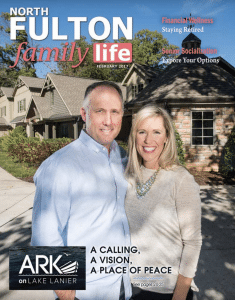 The Ark is a lovely, fourteen-bedroom, twelve-bath, five-acre estate on the shores of Lake Lanier; the result of the vision of Jeff and Alycea Hylton. The largest rental property on the lake, it can accommodate up to forty-five guests in the main house and its three cabins. It includes luxury features like a beautiful pool, hot tub, dock, volleyball court, theater, huge fire pit and gourmet kitchen, and guests have access to boat rentals, caterers and all kinds of other activities. Just over an hour's drive from the Atlanta airport, it's perfect for family reunions, retreats or corporate events.
"We're a family-run business," Jeff says with pride. "Alycea is involved with the interior décor and furnishings, and I handle reservations and finances. Our friend, Rob Finney, is the property manager and helped conceptualize what the Ark eventually became."
In October, the Ark will also be featured in an issue of Lakeside News Magazine. Stay tuned for more details on that.
What are you waiting for?
book your stay now!
We're ready to answer any questions you may have. Give us a call today or book through our online system here. We usually respond within 24 hours.